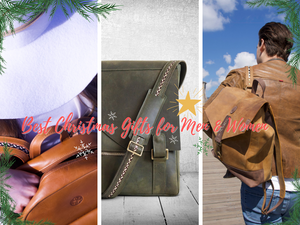 Best Christmas Gifts 2022 for Men and Women
It is never too early to begin shopping for the festive season. With Christmas approaching, you might look for amazing gifting options for your friends and family. Let us check out some of the best gifts for 2022. 
You might have heard about many of them but wait till you check out what's new on the block. Buying unique gifts for the holidays is everyone's idea to celebrate the cheer of the festivals. 
They will surely spur out a stream of compliments from your loved ones. Let's highlight some of the best gift ideas for men and women with every budget.
The Best Christmas Gifts This 2022
Gifts For Women
Backpack
Every woman needs a backpack in her closet. A backpack is extremely useful in every situation and is perfect for holding your routine items. Check out this beautifully crafted backpack which is crafted with lightweight leather.
The inner sleeves are padded with a 3D embossed geo-texture on the front. This enticing backpack will make an excellent gift for your girlfriends.
Small Crossbody Bags
If you want something that speaks of gorgeousness, this mini crossbody bag is the perfect item. This bag is small and handy, offering an array of uses. It is one of the best gifts for women!
It's a super functional small hybrid bag (bag/wallet). You will find multiple pockets inside the bag, the perfect spot to place your ID cards, cell phone, and keys. The soft leather of this bag comes with a unique 3D texture bound to draw glances. The flap comes with a magnetic snap closure, and you can adjust the length of the strap.
Totes
Looking for a stylish gift for your sister, wife or girlfriend? This tote bag brings your search to an end.
The oiled-tanned leather used to craft this bag is enough to amplify your style quotient. With large and generous dimensions, the Zenú tote is great for work, school or any casual day as it fits most laptops. It also has our signature ethnic detail across the front and it's a handmade tote bag that stands out among the ordinary.
Gifts For Men
Slanted Bag
You will never go wrong with this one if you are searching for cool gifts for men.This asymmetrical bag exudes an off-beat design and is crafted with heavy gauge-tanned leather. Its perfect for laptops and MacBooks as well.
The distressed finish of the bag is one of its most attractive and defining features. The soft interior ensures that your laptop and MacBook are safe and protected as well as your other prized gadgets. The strap has a unique ethnic detail and you can also adjust its length to get the perfect fit. 
Terra Backpack
Look no more for the best gifts for men. This Terra backpack gives off strong hints of vintage vibes, making it an authentic and the best gift. Enhancing your functional capacity, this bag is the ideal pick for the days you want to stay swift in your movements while commuting to multiple places.
There is specific attention to detail in this two-tone combination bag. Bask in the royal look of this thick aged leather while you carry it for your next outdoor adventure.
Clip Wallets
Time to get rid of your old-fashioned wallets! Time to get this clip wallet for your friends because it will make it easy to carry your cards and hold all your bills efficiently.
Crafted with full-grain leather, the decently wide and thick yet slim wallet offers generous capacity. The aircraft-quality USA made aluminum money clip adds the final finishing touches to this wallet.
Summing Up
If you are looking for a cool brand to add to your Christmas gifts this year, then Desisano is the perfect destination to shop for attractive gifting options. With these gifting options, you can embrace the core of slow fashion. You will be known for giving your friends, colleagues, and family the best gifts this Christmas.
The authentic brand values sustainability and sourcing through ethical ways. The remarkable quality and craftsmanship are worth lauding. All the more reason why you should choose Desisano for your Christmas gifts!
---