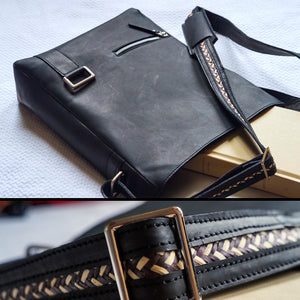 Leather vs Denim - the Ultimate Clash
Feeling deluded with a choice between denim and leather? Unless you are oblivious to the fashion brigade, which tips in favour of leather and denim items that are out there, you would know why they are an excellent choice for most!
Between denim and leather items, you have the option to curate a fantastic ensemble, together with a combination of the two. With a range of the best leather bags, denim apparel as well as denim designer bags available to you, there is no reason why you should look anything less than stunning.
This being said, the difference between denim and leather is quite apparent, with each one of them holding its pros and cons. So, if you have been planning to shop for a leather shoulder bag, a leather tote bag or a laptop leather bag, here is how best you can pair them with denim or vice versa.
Leather vs Denim: Which One Stands Out The Most?
Versatility

Between leather and denim, the former is the obvious choice for most if you are looking for a twist of versatility in your look. Take, for example, women's leather tote bags or leather jackets, and you will realise that they give you a far more versatile look than their denim counterparts.

To bring a refreshing zest to your overall look, you can always put together something with a combination of denim and leather, such as a denim jacket paired with laptop leather bags or denim jeans to go with a leather jacket.
Take a look at this Slanted leather tote bag from Desisano, which proves to be an outstanding choice between traditional denim bags and leather bags. Designed to be used in various ways, leather bags such as these offer the premium comfort of convenience and style. It is hard to see someone styling a denim bag with just as much ease!

Price

When it comes to the price aspect, you may find yourself at a comfortable spot with a denim accessory in comparison to a sporty leather option. Given the quality of the leather, you can expect it to tank the charts when it comes to costs. Denim items, on the other hand, costs less and may be easier to buy. Overall, you will find it quite convenient to put together a daily ensemble with denim apparel and items.

Durability

Drawn to the lower price tags of a denim designer bag or denim items? You might want to hold off that purchase for a time when you do not need something durable because, like it or not, those denim items are not meant to last.



On the other hand, a leather accessory is an icon, which may carry a considerable price tag but only in return for a durable lifespan. You get your money's worth when you spend it on a women's leather laptop messenger bag such as this Radius Crossbody from Desisano, which is designed to last for a long time. Leather items do not rip off as easily and are meant to last. Denim, on the other hand, rips off quite easily and may require replacement.

So, even though it is a great idea to put together a sporty ensemble with a combination of the two, you will always find it more rewarding to purchase a women's leather tote bag.

Style

You would not want to step out of the house with a style that is not hitting the headlines! Consider a leather accessory as an investment. You get to use it for convenient utility and carry it in style for others to see and appreciate your classic taste in accessories.
A denim item may look attractive and trendy, but between leather and denim, the sophisticated choice is quite clear. Take one look at this Zenu Tote from Desisano, and you can see your style quotient go to another level if you happen to purchase a genuine leather bag online.

Conclusion

If you are going to spend your money to get a new accessory, it should be on something lavish such as the best leather bags, making it worth investing in. Step out in style and make an impression with attractive and genuine leather bags online, which you can get at Desisano. Your wardrobe will love the addition and make you want to dress your best in vibrant clothes that go along with your new bag! On the face of it, leather bags may prove to be slightly expensive, but they go a long way with their durable make and classic design. With the right care and maintenance, you will get back the worth of every penny which you use to buy these stylish bags.
---