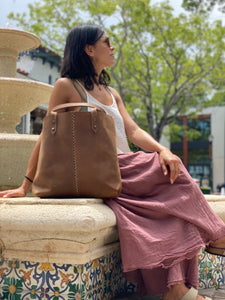 What are the Traits of the Perfect Tote?
Totes are the epitome of style and convenience. Be it any season or occasion, you can always depend on a tote to make a distinct fashion statement while you carry all your necessities comfortably inside it. Considering that totes are available in a wide variety of styles, sizes, materials, colours, and finishes, finding the perfect tote can seem like a daunting task. However, you can easily overcome this challenge if you are aware of the qualities to look for when selecting a tote for your specific needs.
Let's take a look at the traits of a perfect tote based on functionality.
So, What is a Perfect Tote?
A perfect tote lives up to your need for a spacious handbag even as it hits the right notes for being a fashionable accessory to match your stylish persona. A standard tote can easily fit in your laptop, diary, phone, water bottle, purse, and a lot more. Whether you are up for a board meeting, a casual outing with friends, a road trip, or a visit to the mall, you can reach out for a tote to see you through. Here is how you can select the best tote for every purpose and occasion.   
What to Look For in a Work Tote?
As the name indicates, a work tote is a handbag that you use to carry your essentials to work. Among the traits to look for are the size, durability, and style of the tote. When it comes to size, you must be able to slip in your laptop, phone, portable chargers, earphones, keys, wallet, snacks, sunglasses, business card, compact umbrella, water bottle, medications, and other essentials.
With so much to carry about, your everyday tote must be of high quality to ensure it lasts you a long time. Finally, your functional work tote must also be fashionable enough to complement your outfits.  
The Zenu tote with Caña Flecha insert from Desisano is a fine example of a high-quality top-grain leather handbag that can be your everyday companion to work. Its large dimensions, rugged construction, and distressed finishes combined with the tobacco colour and the ethnic trim of Cana Flecha make it a classy choice as a work tote.     
How to Select a Casual Tote?
True to its name, a casual tote is a spacious handbag that you can carry about on a casual day out. It is versatile enough to accompany you while you're at work, on the beach, or out shopping. This means the features you need to look for in a casual tote include versatility, style, and sturdiness.
As a versatile handbag, your tote should be capable of carrying all your accessories comfortably. At the same time, it must have an attractive look to go with your distinct style. A well-designed tote must also tick the box for strength and durability to provide you with a complete storage solution.
Take a look at this fascinating Zenu Tote in black made from distressed oil-tanned leather. Thanks to its robust construction, it makes for the perfect companion on a day out. The beautiful tote has a unique trim of Cana Flecha running through it, making it look all the more elegant.    
What Makes an Ideal City Tote?
What is a city tote, you might ask? In simple terms, it's a beautiful commuter bag that you use to carry your everyday items in style. With a city tote in tow, you can easily make a move for any work or leisure activity across the city. The two traits that can help you select a city tote are functionality and fashion.
Your city tote must be roomy enough to hold everything you need when stepping out of home for the day in terms of functionality. This can even mean accommodating your pair of sneakers for a workout after visiting a friend! Further, having handy interior pockets can help you keep things organised and easily accessible. The ideal city tote must also be a sophisticated piece that can match your fashionable looks on any occasion.
The Forest Green Zenu Tote from Desisano in the picture above, which is crafted out of distressed oil-tanned leather, makes for a fantastic city tote. Embellished with the Colombian handicraft trademark of Cana Flecha, this spacious and beautiful tote deserves to be in your collection.
In Conclusion
A tote is an all-rounder bag that you can carry around to meet your everyday requirements with ease. So, go ahead and add a few of them to your collection and move about in style.
---